Last week, I discussed the chemistry and the roles individual ingredients and steps play in the final biscuity outcome. This weekend the goal has been to experience the tasty products of this science.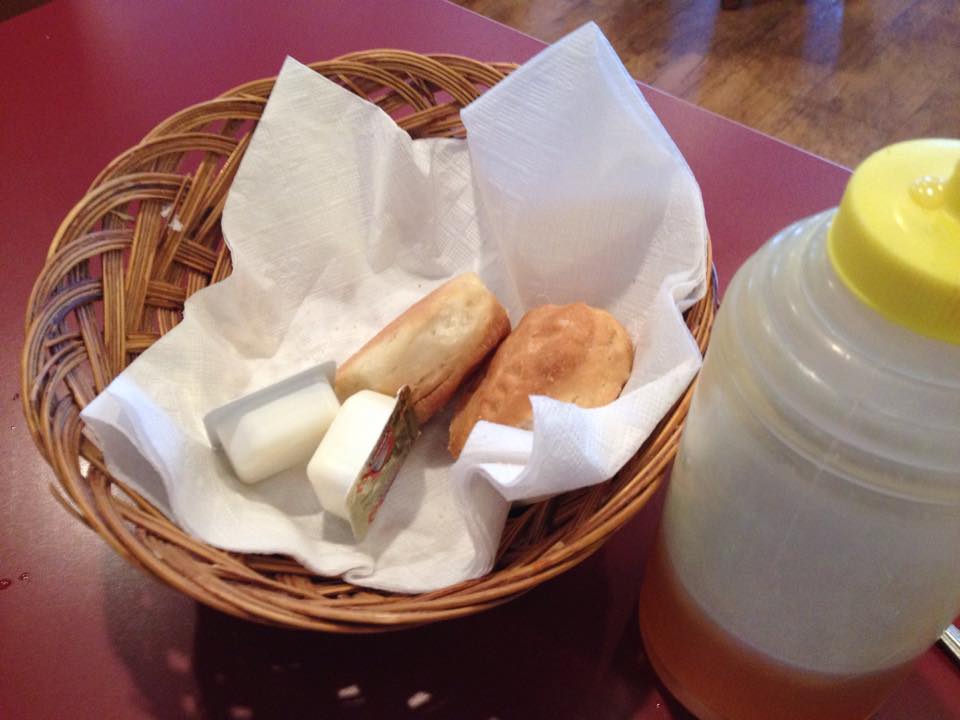 First step, Mama Dips. Overall the biscuits were denser than I was expecting. I would call these a working man's biscuit, that would not crumble in a gentle wind. These little guys are literally the perfect biscuit for packing in a lunch–compact and substantial. Mama Dip's biscuits were not tall but rather short and squatty with a bread like texture. I suspect the flour used has a high gluten content (See this post for some basics). The choice of lard over butter may have also contributed to this.
Mama Dip's Biscuit Recipe
2015-03-29 11:34:59
From the famous restaurant in Downtown Chapel Hill.
Ingredients
2 c. self rising flour
1/4 c. lard or shortening
1 c. buttermilk
Instructions
Preheat oven to 400°.
Put the flour in a pile. With your fingertips, work the shortening into the flour until well blended and evenly mixed.
Pour the buttermilk and mix until dough is formed.
Roll out to 1/2 inch thickness on a floured board; cut with a 2 inch biscuit cutter or pluck off balls, roll, and flatten them with your knuckles.
Bake on a greased baking sheet for 10-12 minutes or until brown.
The Science of the South http://www.scienceofthesouth.com/
Next step was the
P4 Buttermilk Biscuit
. I tried this one simply because the recipe has 5/5 star rating after 540 reviews. Can any recipe live up to the hype? Absolutely. Simply put this is the best biscuit I've ever had. The texture was spot on; crumbly but not so much the biscuit falls apart. If you read again
this post for some basics
and then look at the recipe you can clearly see all the ingredients and steps are in place for the perfect biscuit.
Southern Buttermilk Biscuits
2015-03-29 11:50:51
Best biscuits you will ever make and eat.
Ingredients
2 cups unbleached White Lily all purpose flour (good because low gluten content)
1⁄4 teaspoon baking soda
1 tablespoon baking powder (use one without aluminum)
1 teaspoon kosher salt or 1 teaspoon salt
6 tablespoons unsalted butter, very cold (put it in the freezer a bit to get it really cold)
1 cup buttermilk (approx, Don't chintz but some good stuff from a local dairy.)
Instructions
Preheat your oven to 450°F.
Combine the dry ingredients in a bowl, or in the bowl of a food processor.
Cut the butter into chunks and cut into the flour until it resembles course meal.
If using a food processor, just pulse a few times until this consistency is achieved.
Add the buttermilk and mix JUST until combined.
If it appears on the dry side, add a bit more buttermilk. It should be very wet.
Turn the dough out onto a floured board.
Gently, gently PAT (do NOT roll with a rolling pin) the dough out until it's about 1/2" thick. Fold the dough about 5 times, gently press the dough down to a 1 inch thick.
Use a round cutter to cut into rounds.
You can gently knead the scraps together and make a few more, but they will not be anywhere near as good as the first ones.
Place the biscuits on a cookie sheet- if you like soft sides, put them touching each other.
If you like"crusty" sides, put them about 1 inch apart- these will not rise as high as the biscuits put close together.
Bake for about 10-12 minutes- the biscuits will be a beautiful light golden brown on top and bottom.
Do not overbake.
Note: The key to real biscuits is not in the ingredients, but in the handling of the dough.
The dough must be handled as little as possible or you will have tough biscuits.
I have found that a food processor produces superior biscuits, because the ingredients stay colder and there's less chance of overmixing.
You also must pat the dough out with your hands, lightly.
Rolling with a rolling pin is a guaranteed way to overstimulate the gluten, resulting in a tougher biscuit.
Note 2: You can make these biscuits, cut them, put them on cookie sheets and freeze them for up to a month.
When you want fresh biscuits, simply place them frozen on the cookie sheet and bake at 450°F for about 20 minutes.
The Science of the South http://www.scienceofthesouth.com/